discography - albums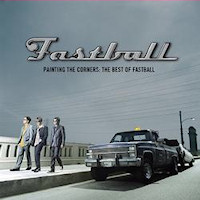 Release:
August 27, 2002
Label:
Hollywood Records
Track Listing:
1.
Make Your Mama Proud
2.
Emotional (non-album track)
3.
Out Of My Head
4.
Fire Escape
5.
The Way
6.
Slow Drag
7.
Are You Ready For The Fallout?
8.
Dark Street
9.
You're An Ocean
10.
Vampires
11.
Human Touch
12.
Sooner Or Later
13.
Love Is Expensive And Free
14.
She Comes 'Round
15.
Black Rain (non-album track)
16.
Funny How It Fades Away
Bonus Content:
Vampires (unreleased music video)
painting the corners: the best of fastball
Painting the Corners is a compilation release of album and non-album tracks. It was released in August 2002, after the band had been dropped by Hollywood Records. The album was the band's final release on Hollywood Records and served to finish out the remainder of the their contract with Hollywood.
The album features songs spanning Fastball's three Hollywood Records releases and includes 4 songs from 'Make Your Mama Proud,' 5 songs from 'All The Pain Money Can Buy,' 5 songs from 'The Harsh Light Of Day,' and 2 non-album tracks. Both non-album tracks had been previously released as bonus tracks to 'The Harsh Light Of Day.' The release also contains enhanced media content in the form of the previously unissued music video for the 'Harsh Light' song "Vampires." In some countries the release might also contain videos for all 5 of the band's hit singles.
The most notable track missing from the album was "Every Time She Walks" from the 'Summer Catch' film soundtrack. The song was popular among fans, many of whom felt the song should have been included on the release.
The band was involved in the process of picking the songs and compiling the track listing for the album; however, this was the extent of their involvement with the release.
According to the band the cover art used for the release was the band's original intended cover art for 'The Harsh Light Of Day.'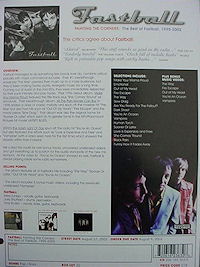 To the right is an image of a trade ad for 'Paining The Corners' showing the original cover art for the release and sales pitch and selling points for the release. (Click to view larger version)