discography - singles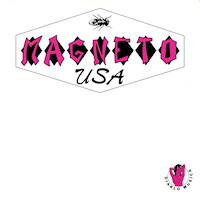 Release:
May 13, 1995
Label:
Diablo Musica Records
Catalog #:
DM002
Track Listing:
a: Human Torch
b: Back Door
magneto usa 7"
The Magneto USA single is a limited pressing 7-inch green vinyl single featuring two early Fastball songs: Human Torch (Scalzo) and Back Door (Zuniga).
The recordings of Human Torch and Back Door are the same as those previously featured on the 1994 Magneto USA 'Eater' demo tape. The songs were recorded at Crystal Clear studio in Austin.
It was released on Saturday May 13, 1995, or thereabouts, as noted in a 'Dancing About Architecture' article from The Austin Chronicle on May 11, 1995.:

"Magneto USA (who maintain they're trying to set up a show with their south-of-the-border counterparts) have a release party on Saturday at the Blue Flamingo for their new 7-inch on El Diablo Musica records. After their show at Hole in the Wall on the 16th, they'll be off for a bit of a tour."
Notes:
The band is credited on the rear sleeve as Max Dillinger (guitar, vocals), Antonio J. Labastida (bass, vocals), Joey Shuffield (drums), with Miles and Tony using pseudonyms.
The rear sleeve features pictures of each band member along with the credits; however, the images of Miles and Joey are switched.
A framed copy of this single can be seen hanging on a wall in the music video for the song Fire Escape.
Review:
'7 & 7 is,' The Austin Chronicle (July 6, 1995):
"The best thing about Magneto USA is that the Austin trio combines punk with New Wave in a way that begets energetic pop songs with balls. Case in point is bassist Tony Scalzo's (the punk part of the equation) ripping "Human Torch" and Miles Zuniga's (the New Wave half) "Back Door," both of which can be found on the band's Eater tape, but not on Diablo Musica's green vinyl. Great single, though Zuniga's B-side pales a bit next to Scalzo's A-side, and any live performance you might catch."