discography - albums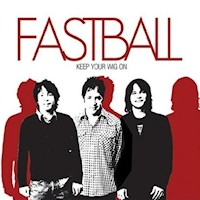 Release:
June 8, 2004
Label:
Rykodisc
Track Listing:
1.
Shortwave
2.
Lou-ee, Lou-ee
3.
Drifting Away
4.
Airstream
5.
I Get High
6.
Perfect World
7.
'Til I Get It Right
8.
Our Misunderstanding
9.
Someday
10.
Mercenary Girl
11.
Falling Upstairs
12.
Red Light
Bonus Tracks:
High Low
Possible dropped/cut songs:
New Orleans #65
Rebel Radio
keep your wig on
'Keep Your Wig On' is the fourth studio album by Fastball, released in 2004.
"Revolver Demos"
The first taste of Keep Your Wig On came in August 2003 when a set of demo recordings was placed on the band's official website. Deemed the "Revolver Demos" by fans, these 8 songs were part of a set of recordings done with Adam Schlesinger (Fountains of Wayne) in late 2001 or early 2002. The majority of these songs or recordings would end up on Keep Your Wig On.
2003
Fastball officially entered into the studio in early November to begin recording their fourth album with producer Mike McCarthy (...And You Will Know Us By The Trail Of Dead). Recording was complete by mid December and it was announced that the album would be released on Rykodisc Records in May 2004.
2004
In January, the first song titles from album, Our Misunderstanding and Drifting Away were included in a Rykodisc press release.
Mixing and mastering of the album was done by renowned producer/mixer Bob Clearmountain, at Mix This Studio in Los Angeles, in early February. In mid February, the album's release date was pushed back to June 8th, and band's website was updated with teaser art featuring 'Keep Your Wig On' as the title.
In March, the album title was officially confirmed and Drifting Away was announced as the lead single. Airstream would also be released to AAA radio stations as a single.
The album's cover art and track listing were officially announced in April. An EPK, created by then bassist/saxophonist Jeff Groves was released that featured video from the recording sessions, song clips, and interviews with the band. Several song clips, and the full version of Airstream, were made streamable from the Rykodisc website in late April.,
The album was released on June 8 in the US and on July 19 in the UK, with the UK release featuring a new recording of the song High Low as a bonus track. Lou-ee, Lou-ee was also set to be released as the lead single in the UK.
Other Notes:
The majority of the album was recorded at Viewpoint Studios in Austin. The album was mostly recorded in "live" fashion, with the band playing the whole song through using single takes, instead of recording and layering the elements separately. This produced a slightly grittier, raw sound to the recordings, but also helped to breath life and energy of a live performance into them also.
Clips from a few of the albums songs were featured in television shows throughout the year. A very small clip of Someday was featured in an episode of the WB's 'Smallville.' Airstream was featured in the season finale of Fox's 'The Simple Life,' which featured an Airstream trailer throughout the season. Til I Get It Right was featured prominently in episode 134 of Bravo's 'Queer Eye for the Straight Guy.'