discography - albums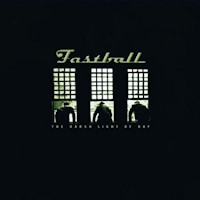 Release:
September 19, 2000
Label:
Hollywood Records
Track Listing:
1.
This Is Not My Life
2.
You're An Ocean
3.
Goodbye
4.
Love Is Expensive And Free
5.
Vampires
6.
Wind Me Up
7.
Morning Star
8.
Time
9.
Dark Street
10.
Funny How It Fades Away
11.
Don't Give Up On Me
Bonus Tracks:
Black Rain
Emotional
Love Doesn't Kill You (demo)
The Way (live)
Possible dropped/cut songs:
Speak Your Name
Every Time She Walks
the harsh light of day
'The Harsh Light Of Day' is the third studio album by Fastball.
Following the commercial success of the band's sophomore release 'All The Pain Money Can Buy,' Hollywood Records were eager for the band to produce another hit album. They provided the band with access to funds, a quality studio, and a vast array of equipment to record their third album. Julian Raymond was also brought back to produce the effort.
The band utilized numerous classic (older) guitars, basses and amplifiers in the recording process to find the right sound and tone for the songs and parts. They also utilized a larger number of accessory studio musicians to add orchestration and other musical parts, most notably the French Horn, that was featured throughout the song "Vampires."
Guest musicians were also featured on a couple of the album's prominent tracks. The late Billy Preston, renowned for his work with the Beatles and Eric Clapton, among others, contributed the piano portions to the song "You're An Ocean." Rockabilly, big band, and retro-rocker Brian Setzer contributed electric guitar to the song "Love Is Expensive And Free."
The album was well received with fans of the band, and quickly became a favorite of many. It was also generally well received by critics and album reviewers. Though many reviewers and fans felt that the album suffered from overproduction.
Lyrically the album was more mature and personal than their prior release. While still filled with poppy hooks, the overall musical style of the album was a step above 'All The Pain Money Can Buy.' It had less of the commercial, radio-friendly, catchy pop hooks, that ultimately, the band felt made it harder to market. Commercially, the album did not do as well as Hollywood had hoped, spawning only one moderate hit single, "You're An Ocean." It wasn't long before they label backed off on their promotions, and essentially let the album fall by the wayside, while the band continued to tour in support of it.