discography - singles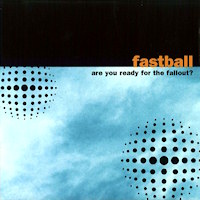 Release:
1997
Label:
Hollywood Records
Catalog #:
PRCD 10738-2
Track Listing:
1.
Are Your Ready For The Fallout?
Are You Ready For The Fallout?
"Are You Ready For The Fallout?" is Fastball's first single on Hollywood Records and the only single to be released from their debut album 'Make Your Mama Proud.'
The song was released as a promotional single to radio in 1997; however, it failed to attract attention and ultimately received little radio airplay.
From 'Dancing About Architecture,' The Austin Chronicle (December 12, 1996): "The worst thing you can say about Fastball's "Are You Ready for the Fallout?" is "I can't get it out of my head," but as we all know, radio just doesn't play that bar-band stuff."