discography - albums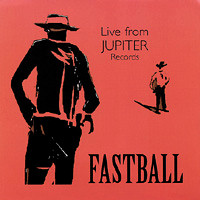 Release:
February 2003
Label:
Jupiter Records (indie)
Track Listing:
1.
Fire Escape
2.
I Get High
3.
Don't Give Up On Me
4.
The Way
5.
Just Another Place
6.
Mercenary Girl
7.
Life
8.
Falling Upstairs
9.
Airstream
10.
Out Of My Head
life from Jupiter records
The story of Jupiter:
Jupiter Records was a small yet popular record store in Austin, run by friends of the band Jason and Ryan Enright. The store has since closed its doors, but during its time was quite the spot, and would often have in store shows.
Tony and Miles were arranging an acoustic duo tour throughout the United States, as part of their "starting over" strategy. The intent was to strengthen their musical relationship, general friendship, and effectively rebuild the band by hitting the road and playing intimate stripped down acoustic shows.
The guys wanted a new CD to sell at the shows along the way, and it was suggested by a close friend that they do a show and record it. The band played Jupiter Records on Saturday, January 25, 2003. The show was unadvertised, and about 50 family and friends were on hand. It was mixed live and recorded to 2-track. Close band friend Paul Minor produced the recording, with Jupiter's Jason and Ryan executive producing.
The track listing for the album included many new or previously unreleased songs. Most notable was that three of the songs were written by both Tony and Miles, marking a first for the generally independent songwriters. It was these songs that stood out above all the rest of the recordings. Eventually, several of these songs would go on to be included on the band's next studio album.
The CD, limited to an initial 1000 copies, was available for purchase from the Jupiter Records store in early February, and online via their site by the end of the month, along with being available at Miles and Tony's acoustic shows. The CD had sold out by late July / early August. Eventually more copies would be pressed for availability on tour dates prior to and in support of Keep Your Wig On.
Reviews:
Vintage Guitar Magazine (Dan Forte, April 24, 2003):
I was never a big fan of Fastball's work, but until Live From Jupiter Records I'd never heard the multi-platinum trio stripped down to the bare essentials. Either the band has matured or they were over-produced and over-imaged during their major-label foray (or both). Here, their songs take center stage, with crisp sound and production from engineer Paul Minor. The bass-less, unplugged set was recorded live (and mixed directly to 2-track DAT) at an Austin record store, with Miles Zuniga's lead work confined to acoustic, and Tony Scalzo switching to piano for several songs. The pair collaborated on the Lennon-esque "Falling Upstairs" and "I Get High," which would sit comfortably in the Band's catalog, while Zuniga co-wrote two songs with former NRBQ guitarist Al Anderson. I still think the melody of their hit, "The Way," sounds suspiciously like "Delilah," but it's given a bolero/cha-cha treatment here that transcends the familiar All The Pain Money Can Buy version. Considering the music industry's woes, this may be the wave of the future. From gig to product took exactly two weeks and cost next to nothing. With Scalzo's High Noon-inspired cover drawing and a co-op arrangement with producer and the record store chum label, they've virtually cut out any middle men. And, most important, this is the group's best effort to date. The label proclaims its dedication to "the empowerment of the independent musician," declaring, "The revolution in music is now." I can only add: It's about time!
'Phases and Stages,' The Austin Chronicle (Raoul Hernandez, February 23, 2003):
Fastball has always been about songwriting. Songwriting credits. All three of the Austin trio's major label releases leapfrog compositions by the guitarist and bassist, each of whom sings his own contribution: Scalzo, Zuniga, Scalzo, Zuniga, Scalzo, Zuniga -- with few exceptions. Given this polarization that ultimately led to Zuniga's leaving Fastball last summer, "Songs 2,6 & 8 by Tony Scalzo and Miles Zuniga" is the best line on the reunited group's fourth and possibly best outing, the new Live From Jupiter Records. That one of these collaborations, the hemp-friendly "I Get High," is as fine as Scalzo's wistful vocal, makes the turn of events that much more heartening. The jaunty, Loudon Wainwright-like "Mercenary Girl" and bronze medallion "Falling Upstairs" do nothing to discourage the trend, especially within the friendly confines of a 32-minute, hit-peppered, unplugged set. More striking, however, is the coming together of the two longtime bandmates on the songs themselves. When Scalzo intones the perfect harmony counterpoint on Zuniga's opener "Fire Escape," a complementary note not heard since the band's 1996 debut is struck. Again and again, in fact, to riveting effect on the band's breakthrough, Scalzo's "The Way," zinged with a Mediterranean flourish here. Zuniga's Nashville souvenirs, the twang-tripped "Just Another Place" and "Airstream," smack of Music City cubicle confections, but his "Life" could've used Fastball's former parent corporation, Disney, paying radio programmers all the way to Hitsville. Instead, Hyde Park indie record store Jupiter Records becomes a label with Live. What's next, drummer Joey Shuffield's solo album?