discography - albums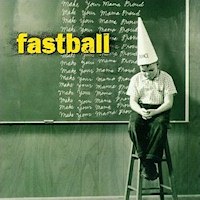 Release:
April 2, 1996
Label:
Hollywood Records
Track Listing:
1.
Human Torch
2.
She Comes Round
3.
Make Your Mama Proud
4.
Back Door
5.
Are You Ready For The Fallout?
6.
Nothing
7.
Boomerang
8.
Eater
9.
Knock It Down
10.
Lender
11.
Altamont
12.
Emily
13.
Seattle
14.
Telephone Calls
Bonus Tracks:
Quit Your Job
Emotional
This Guy's In Love With You
(Ji Soo Guy)
Possible dropped/cut songs:
I Can't Wait Until I'm Cool
make your mama proud
'Make Your Mama Proud' is the debut studio album by Fastball.
'Make Your Mama Proud' can generally be described as a pop-punk album, much in the style of Green Day - highly energized, melodic, and rocking. The style of songs on this album culminate from the combination of the musical backgrounds of the band members and the high energy live presence that the band had.
The songs on the album were derived from years of youthful experience and in each right, tell a tale, with each having a direct meaning, story, or experience behind them. Most of these songs existed for awhile, being the majority of the band's live repertoire, and so had already generally been worked out prior the album's recording. Some of these songs had been around for several years, for example "Human Torch" and "Nothing," which were both songs written and performed by Tony in his prior band The Goods. How many of the album's songs were written for or closer to the album's recording is unknown.
"Are You Ready For The Fallout?" was the only single released to radio stations. The song stands out from the rest of the album, being more poppy and melodic. While "Fallout" failed to grab radio attention at the time, it was the first indicator of the band's changing style, and more representative of the album the band would produce to follow up 'Make Your Mama Proud.'
Initially, 'Make Your Mama Proud' sold less than 2,000 units, a disappointing figure to both the band and the label. Were it not for the band's determination and decision to quickly write and record a follow up album, with the more pop (and more mainstream) style they were moving towards, the failure of 'Make Your Mama Proud' may have led to the band being dropped from the label.
Following the success of the band's second album 'All The Pain Money Can Buy,' sales of 'Make Your Mama Proud' began to take off as well, and opened new Fastball fans up to a whole other side of the band's music.
VERSIONS
| | | | | |
| --- | --- | --- | --- | --- |
| Catalog | Region | Label | Date | Notes |
| HR-62045-2 | USA | Hollywood | 04/02/96 | |
| PRCD-62045-2 | USA | Hollywood | xx/xx/96 | Advance / Promo |