news archives
Black Rain Online News Archives: 2001 | 2002 | 2003 | 2004 | 2005 | 2006 | 2007 | 2008 | 2009 | 2010

Miles blogs with Junkie Hands
December 22, 2009
Miles has posted a new song on his blog MilesZunigaLovesYou, a demo of a song called "Junkie Hands". The laid back piano ballad sounds more like the Small Stars than Fastball, but you can be the judge.


Earlier this month Miles also posted another new demo for a song called "Hundred Dollar Bill" This demo sounds quite Lennon-esque, and to me the main riff and verses sound a bit like some of the music featured in 70's era Argento giallos.


Both new tunes are the result of a songwriting game, where you're given a title or word(s) and you write a song based off the words. They're interesting, let's hope Miles keeps on playing the game. Click on the divShare logos and you'll be whisked away to the song's pages where you can download these tunes.
Fastball "trot" in for a stripped down Daytrotter set
November 15, 2009
Miles posted yesterday that the band recently completed a "Daytrotter Sessions" set at Daytrotter Studios in Rock Island, IL. The premise of the sessions is simple, come into the studio, pick-up or sit down at one of the instruments there, and record a quick raw set of songs. The band's set consisted of Always Never, Angelie, Soul Radio, and The Malcontent (The Modern World). The songs sound great, and this raw set really showcases the band's songcraft and how well they all mesh so well together live. The set is available to stream and download (free) at the Daytrotter site.

Daytrotter was one of the suggestions I made to the band through this site back in mid 2008, especially as they were going to be playing at a brewery in Rock Island on that summer tour. Not sure what finally got them up there now, but I'm glad they finally did, it turned out great.
Catch-up Items
October 20, 2009
Okay so I've been out of the F'ball mix for a bit, lots of stuff going on at my paying gig, and a lot of other personal commitments (and let's face it, there really hasn't been much to talk about). Anyhoo, some catch-up items here. First a couple shows to note, the first is a Miles and Tony acoustic show at The Back Porch in Port Aransas, TX on Friday October 23. The second show will be October 30, opening for The Toadies at L'Auberge du Lac Casino Resort in Lake Charles, LA. Full info on the Shows page.

Next, Miles has started his own Googlishious blog, to which he can let loose his thoughts on the world. Very similar to his old blog from The Small Stars site. It can be found here:
http://mileszunigalovesyou.blogspot.com/
Lastly, for any of you still utilizing the blackrainonline.com address for this site, please make sure you update to the current URL if you have not already. I have opted to not renew this address, as I don't foresee it bringing any further benefit to the site. As for the site itself, I realize there are still areas in need of attention. It is likely to stay that way for a bit longer. My focus has been in my day to day job, and with other personal endeavors, most important of which is working on writing and recording music with a friend of mine.
I ask one favor of the dedicated fans that visit: If you are aware of some bit of news, info, or shows that I have not noted or updated on the site, please e-mail or PM me through the forum and let me know. While my attention is currently drawn away from Fastball and this site, I do want to keep things current and updated. So, if I'm missing something please let me know. And as usual thanks to all you fans that visit here. - Eric
Acoustic Fastball makes for good breakfast
August 12, 2009
The band made an appearance on the 'EHM Breakfast Show while in Amagansett this past Sunday. A couple tracks from the band's acoustic set have been posted on the show's blog. Click over to hear "All I Was Looking For Was You" and "The Way" from last Sunday's show.
Fastball on the Springer Show (or vice versa)
August 7, 2009
Fastball were joined on stage by a guest during yesterday's show at Columbus Park in Stamford. Jerry Springer, host of the long running tabloid talk show The Jerry Springer Show, hoped up on stage and joined the guys on their cover of Janis Joplin's "Me and Bobby McGee." Pics via @fastballtheband and @BenjaminCYoung.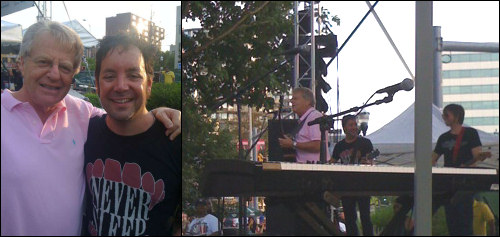 And later, the guys (or at least Miles) had some hang out time with Jerry as well as Gary "Baba Booey" Dell'Abate, producer of the Howard Stern Show.
Miles Vlogs Little White Lies tour
August 4, 2009
According to a recent blog post to the band's MySpace page, Miles will be trying out some video blogging throughout the band's month long tour with Sugar Ray. The first few videos are online now on Miles' Guy Fantasy YouTube page. Nothing much to interesting so far, but the tour is young, so hopefully we'll be seeing more frequent videos as the tour progresses.

In other keeping up with the band on tour news, I've popped the band's twitter widget on the side panel here as an added source of info.
Miles & John Dee at Continental Club and F'ball at Shady Grove
July 17, 2009
Fresh from the MySpace: Miles will join John Dee Graham on stage at the Continental Club in Austin this coming Sunday night (7/19) at 8:30pm, part of the "John Dee and Friend" series. On Thursday July 23, Fastball will strip down for an acoustic set at the Shady Grove. This will be a FREE show, part of 107.1 KGSR's "Unplugged at the Grove" series.
Fastball add Talkhouse date + The Small Stars Return
July 5, 2009
Fastball will make a stop at the Stephen Talkhouse music club on Long Island, NY on 8/2 during their tour with Sugar Ray. This is a Fastball only show. Tickets are $20 and the show is at 8:00pm.

In other news Miles' cabaret rock troupe the Small Stars will be making a live return (in Austin) starting this Tuesday night. You can catch them at Vino Vino this Tuesday (7/7) at 8pm. The group will then be taking up residency at the Continental Club for 6:30 happy hour every Thursday in September. Will this be a short lived run or does this mark a return for the all star group? Either way, catch one of these few shows while you can.
Little White Lies = Mr. Roboto?
June 30, 2009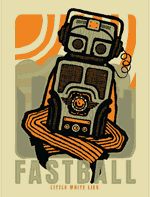 A quick check of the Fastball official store yielded this find, a new limited edition Little White Lies tour poster. This 19" x 26" poster is screen printed on heavy stock, and is signed and numbered by the artist Travis Bone. It can be yours for the displaying for $25 bucks. Current online stock is at 31 units, with no word on the total "limited" numbers. Snag it here.

It's an interesting poster, though how the imagery relates to Fastball, or the Little White Lies tour is less than clear. Perhaps a personification of "Soul Radio."

Of course the official store still has a slew of Fastball wears available, though they do need to restock many key shirt sizes.
An Additional Sugar Ray date
June 10, 2009
One last date with Sugar Ray has been noted by a fan on our forums. The two bands are scheduled to play Cain's Ballroom in Tulsa, Oklahoma on August 24 at 8:00pm. This date does not yet appear on the band's tour listing; however the event with Fastball is on the venue's calendar.
Additional tour dates
June 8, 2009
A couple of late(r) arrival tour dates here. The band is playing a FREE show Wednesday, June 10 (8:00pm), at Republic Square Park in Austin. They will also be playing a show with Smash Mouth and Soul Asylum at the Lucky Star Casino in Clinton, OK, on Friday June 26.

Other upcoming dates include:
Jun 20 - Washington Park - Manitowoc, WI
Jul 3 - Levitt Pavilion - Arlington, TX
Jul 4 - Antone's - Austin, TX
Jul 11 - Newburyport Riverfront Music Festival - Newbury Port, MA
Fastball to hit the road with Sugar Ray this summer
May 24, 2009
Fastball will join Sugar Ray for an 19 show run this summer, beginning in late July. Sugar Ray, best known for their hits "Fly," "Every Morning," and "Someday" gained fame in the latter 1990s, like Fastball. Their singer, Mark McGrath was previously in a band with Tony Scalzo called Electric Kool Aid, and has most recently been seen hosting the television show, 'Extra.' This tour should be a good one, and one would expect that if Fastball can continue to book tours with other 90's heyday bands, the draw from these shows should be pretty good, especially with complimentary combinations of powerpop, like Fastball and Sugar Ray.

Jul 28 - The Emerald Theatre - Detroit, Michigan
Jul 29 - The House of Blues - Cleveland, Ohio
Jul 30 - Bottle and Cork - Dewey Beach, Delaware
Jul 31 - Ram's Head Live - Baltimore, Maryland
Aug 3 - Northern Lights - Clifton Park, New York
Aug 4 - Paradise Rock Club - Boston, Massachusetts
Aug 6 - Columbus Park - Stamford, Connecticut
Aug 7 - The Fillmore - New York, New York
Aug 8 - Tropicana Casino -Atlantic City, New Jersey
Aug 10 - The Norva - Norfolk, Virginia
Aug 11 - Amos' Southend -Charlotte, North Carolina
Aug 12 - Variety Playhouse - Atlanta, Georgia
Aug 14 - The Culture Room - Fort Lauderdale, Florida
Aug 16 - Janus Landing - St. Petersburg, Florida
Aug 18 - The Wildhorse - Nashville, Tennessee
Aug 19 - House of Blues - New Orleans, Louisiana
Aug 21 - La Zona Rosa - Austin, Texas
Aug 22 - The House of Blues - Houston, Texas
Aug 23 - House of Blues - Dallas, Texas
"Little White Lies" single surfaces
May 20, 2009
A copy of the promotional single for "Little White Lies" surfaced recently on eBay. The single which features a slightly shortened edit of the Fastball title track was snagged by a fan. Said fan has posted a link to the radio edit in the thread on our forums. The discography page for the single (along with all remaining single pages) is now up on the site.
Slew O' Reviews No. 2
May 7, 2009
While we around here continue to be both entertained and impressed by the new Fastball album, others out there are still finding the album, and continuing to spread their opinions about it. Below is a listing of new(er) reviews for Little White Lies.
About.com Review
QRO Magazine - 7.4 rating
Music Minded (blog) - B
The Corner (brief)
Author Blog @ Dummies.com
Texas Monthly Magazine
The Badger Herald - 3/5
More Press for Little White Lies + Fastball play cruise ship in San Diego today!
April 24, 2009
Cindy Royal gives the album a once over for Texas Music Magazine.
Cahl's Juke Joint (blog) gives the new record a plug.
Out of the Blue (blog) gives the album a nice review.
The Temple News - The Soundboard review - a nice honest review

**In other late breaking news, the band will be playing a free live show **today** aboard the Hornblower Harbor Cruise in San Diego. This show is a private listener concert brought to you by 102.1 KPRi. For locations to get FREE tickets to the show click here.
New Interview with Miles and Tony
April 22, 2009
The Globecat blog has posted a recent interview with Miles and Tony. The interview is a nice length with some good Q&A. Read: Globecat's Interview.
New album already hard to find
April 20, 2009
Well nearly a week out and Little White Lies has found its way into the hands of many a hungry fan, and within hours of picking up copies many of those fans were buzzing on our message board, giving their thoughts and reviews. Overwhelmingly many fans have found this new album to be the band's best work to date. Unfortunately it seems that the new album has been a hard find at many local stores.

While many people were able to find copies at some larger store (i.e. Best Buy, Target) locations, other locations, as well as other stores that sell music were absent copies of the album. It seems that many stores were supposed to have at least one copy of the album in stock, but some snag has held up many places getting these copies. Miles has indicated that he is working with the band's distributor to figure out the problem. He has asked fans to post on the forum (this thread) which stores, specifically have not received copies. If you know of any please sign up and post them on that thread.

This issue has also affected non-US fans who ordered through sites like Amazon.com and are seeing delays due to the sites selling out of their initial stock, in addition to already long shipping delays. Miles has also indicated that he is trying to work out an overseas distribution plan; however, did note that it is more complex, especially being an independent artist, and therefore will take more time.

So please head over to forums, give us your take on the new album, and let us and the band know of stores that are missing copies of the album.
Slew O' Reviews
April 20, 2009
So within the short time since its release, Little White Lies has generated a number of new reviews, generally all very positive, but a few not so. Here's a run down:
Baltimoreathome.com - Grade B
Metromix - 4 out of 5 stars
The Daily Iowan (scroll down) - 4 out of 5 stars
Out of the Blue (blog) - positive review, no ratings
Starpulse.com - Grade B
The Austin Chronicle - 3.5 stars
Racket Magazine - 8/10 - decent rating, though the paragraph writer calls it "standard fare"
Plumbiferous Media - Rating: 14 (out of 100?) - a bad review and worth complaining about
Voxmagazine.com - VV Rating (??) - a bad review and worth complaining about

Obviously, everyone is entitled to their opinions (of course we here are biased), but something must be said for ignorance and open mindedness of a music reviewer. It seems clear that the reviewers who didn't like the new album have the former and lack the latter and/or they just skimmed through the album without actually doing what is required to form a proper review of the material. So read around as you will, and let us know of a new review or piece of press as you come across it.

Lastly of note, two new articles about or with the band. First 'Fastball Has Found A New Way' from the Kitsap Sun. And next a Powerpopaholic Interview with Miles Zuniga. Check 'em out.
Little White Lies out today!; Fastball on KGSR and in-store release
April 14, 2009
The much anticipated new album hits stores today (or mailboxes in the next few days). Fastball will be live on Austin's KGSR 107.1fm today at 2:15. Tune in to the fm or stream on www.kgsr.com. I missed that the guys were on the radio twice the last few days, sorry about that. Anybody get a recording?

Lastly, the band celebrates the release of Little White Lies, with an in-store party and performance at 5:00pm at Waterloo Records in Austin. So (locals) work through lunch and head on over for a good time. PS - Beer's on the band!
News & Reviews
April 13, 2009
Some new reviews for Little White Lies. InsidePunk.com gives a brief yet positive review of the new album. Shakefire.com gives the album a B+ (3.6/4). All Music Guide (AMG) gives the album 4 out of 5 stars. The Austin Chronicle discusses Fastball and the new album, among other things in their recent "Off the Record" section. Read about it here or listen to the audio version here. Lastly and best out of the bunch, Michael Corcoran of the Austin American Statesman has written a new article about the band and new album. The article delves into some nice history of the band, including some lesser mentioned facts and tidbits. A well done article, and certainly one of the most satisfying to be written about the band of recent. Read Fastball: In Harmony
Fastball scores well on Modern Music
April 8, 2009
The Modern Music blog recently posted their review (blurb) of Little White Lies. The review, if anyone would call it such, is under impressive at most. They do; however, give the album an impressive 9 out of 10 rating, highlighting "Always Never", "Little White Lies", and "How Did I Get Here?" as stand out tracks. The posting also features a link to an mp3 for the album's opening track "All I Was Looking For Was You."
Band get new wears in store
April 6, 2009
Several new t-shirts are now available at the band's official merch store. Go grab one now.
Little White Lies song info updated
April 2, 2009
By way of internet resources, all the songs on the upcoming Little White Lies album have been updated with current lyrics, songwriter information, and running times. Notable findings: all songs written by Zuniga/Scalzo, except "How Did I Get Here", "Angelie", and "We'll Always Have Paris", Ben Margulies co-writes on "She's Got The Rain" and "Little White Lies", Bruce Hughes co-writes on "Rampart Street", Jeff Groves co-writes on "White Noise".
Fastball continue to add more dates + Bristol Observer article
April 1, 2009
The band is continuing to grow their upcoming tour, so far adding a small handful of dates, including an in-store album release show at Waterloo Records in Austin on April 14. Also added to the calendar are a few dates noted on Pollstar's listing that have yet to make it on the MySpace or official site calendars.

In other news the band continues to get more press pre-album release. The Observer (Bristol, CT) recently published a short editorial and lengthy Q&A with both Miles and Tony. The Q&A discusses the typical questions about the new album, the band's musical progression, what the guys were up to over the last five years, and notably what we can expect post-album release. To this Miles states that the band is going to tour frequently in '09 and then they will make another album (this time without a five year wait). View the Observer article (PDF format).
Everyone in here's on the Guestlist
march 30, 2009
It's a new day, and time for another new album review. Fastball was recently plugged on The Guestlist magazine site. Head on over to read their short interview with Miles, and their positive review of Little White Lies.
Fastball to Embark on US Tour in April + New MySpace Songs
March 26, 2009
The band has been busy scheduling post album release tour dates across the States. Find a full listing of current shows, and all pertinent info on our Shows page. Currently there are only about a month's worth of shows scheduled, with hopefully more to come.

In other news, the band has recently updated the songs featured on their MySpace page, with the new album versions of "Little White Lies", "All I Was Looking For Was You", and "She's Got the Rain". Some fans are intentionally avoiding the new versions, looking to be pleasantly surprised when the album is out; though many others have chosen to listen to them now. Your choice, visit the band's MySpace page to hear them now.
New Album Review; SXSW / SXSJ Wrap Up
March 24, 2009
Cosmos Gaming, an interesting website dedicated to news, reviews, and info about both gaming and music, has recently posted their review of Little White Lies. The review, written by a person not familiar with the band until just recently, is a thorough, honest look at what makes Fastball and Little White Lies just so appealing in today's music world. Read the Cosmos Gaming review.
In other news Fastball wrapped up their 7 show run for this years SXSW (and apparently South By San Jose) this past Saturday at Jo's Coffee. This has been the band's biggest presence at the annual event in at least the last many years. As expected Fastball fans were out in force at many of these events, and some have been reported on in our forums.
Didn't get to catch any of these shows? Well try these:
YouTube - SXSW, YouTube - SXSJ, Fastball KUT Secret Showcase (audio & videos)(review), Fastball at Ace's Lounge (audio), Fastball at Jo's Coffee (audio), Fastball on KGSR (audio), Fastball at Auditorium Shores (pictures), On That Note Cindy Royal Blog (Various SXSW & Fastball reviews and pics)
Two additional weekend Austin shows + KUT broadcast today!
March 20, 2009
The band will play a show tonight at 8pm, upstairs at the location of 6th and Red River Streets. The band's MySpace page lists the location as 604 E. 6th Street, which is apparently the location of the old 6th Street Hostel. The second show is at 5pm at Austin's Auditorium Shores park. Both shows are FREE, so get your weekend started right with some live Fastball.

Austin's KUT 90.5 will air their "Secret Showcase" with Fastball (Recorded 3/17) today at 12 noon (CDT) during their Texas Music Matters segment. Listen online at KUT.org. **UPDATE** - Stream the entire Fastball show here.
KUT Secret Showcase with Fastball
March 18, 2009
So it turns out that Fastball's intimate acoustic show for KUT wasn't broadcast live last night. It was noted that the show was being recorded, and it has since been learned that it will air on KUT this Friday. Until then you can catch a video of "All I Was Looking For Was You" from that performance on the KUT website right now. More live videos from the show are coming soon. In the meantime, you can also download the band's two song set from yesterday's KGSR morning show (courtesy of InkBlotPanel).
Fastball live on radio - Twice! - March 17
March 16, 2009
So Fastball's live KGSR set is tomorrow morning at 8:30. However, the band will also be playing/recording a live set at KUT 90.5fm, at 8:00pm. Head on over the band's MySpace and respond to Miles' post about this to snag one of the 20 or so seats available for this live recording. After that everyone will head over to Vino Vino. Listen to the set on KUT's website at 8:00pm Central time.
New Album Review from Modern Power Pop
March 16, 2009
It's here, the first significant review of Little White Lies to hit the net. The Modern Power Pop blog has recently posted their review for the new album, and it is beaming with praise for the album, the songs, and the band. The reviewer agrees that this album is the band's best to date, and is filled with nothing less than 12 hit worthy songs. All in all the album received a strong 4.5 out of 5. Read the Modern Power Pop review.
Fastball to play live from the Four Seasons + Free "Little White Lies"
March 12, 2009
On Tuesday, March 17, the band will be live at the Four Seasons in Austin, playing a few songs live on air during KGSR's morning show. The band is scheduled to go on around 8:30am. Davíd Garza will also be playing some songs as well. So tune in to KGSR during the 8 o'clock hour or head down to the Four Seasons, and for $5, catch some live songs from Fastball and Davíd and have coffee and breakfast tacos. Later that evening, join Miles at Vino Vino with some "special guests."

Head over to the Absolute Powerpop blog, where the band's latest single "Little White Lies" is the most recent featured download.
Radio singles on the air
March 11, 2009
As previously reported, the song "Little White Lies" will be going for adds on Triple A radio beginning on March 31. However new Fastball can already be heard on some stations. KGSR 107.1 Radio Austin (Austin, TX) added "Little White Lies" to their new music playlist on March 10. WBJB 90.5 The Night (Monmouth, NJ) added "Mono To Stereo" to their playlist on March 6. "Little White Lies" is also being played on MG Radio 103.3 in Indonesia as noted in their Top 40 Charts. Let us know if find new Fastball playing on a station near you.
Fastball expands social network + Tour Update
March 10, 2009
According to a new MySpace blog posting, Miles is busy watching Woodstock (The Director's Cut) and setting up a band account on Twitter. He has apparently succumbed to the temptation and pressure and expanded the band's social network to the now popular networking site (especially now popular for bands). Find the band by searching "Fastballtheband." It would seem that a Twitter account is required to search and view an account. As I do not have one, perhaps someone can fill us in on the message board as to what's on the band's new account.

It was also announced (as expected) that the band would be hitting the road beginning in late April or early May in support of Little White Lies.
Pangaea live photos
March 10, 2009
Photographer Manuel Nauta took several live shots from the band's recent Pangaea show. Some really nice shots, and they can be seen on his website here.
"Little White Lies" to be lead single
March 9, 2009
That's right the title track from the band's new album Little White Lies will be released to Triple A radio, starting March 31. Last week the song was discovered on the Going for Adds section of the FMQB website, and now today has been found on the Going for Adds section of industry site Radio & Records. So place a call to your local Triple A station (lists here, here, and here) and ask them to tell you some "Little White Lies."
Fastball add unofficial SXSW show
March 8, 2009
The band are scheduled to play an 8 o'clock show at Jo's Hot Coffee, S. Congress Avenue location on Saturday, March 21.
First review of Little White Lies hits the net
March 5, 2009
Yep the first review is out. Bring On Mixed Reviews gives the album a 3.5 out of 5 rating. Sadly the short review is less about the album and songs, and is more a review of the band's past and how they have or haven't changed in comparison to some of the band's heyday counterparts. Found another review or article online? Let us know about it.
PSU Says Fastball rocked
February 27, 2009
The free Fastball show at Penn State University last night, was a rockin' good one, pleasing avid Fastball fans and those just familiar with the band's late 90's hits. See: Fastball, Nine Days rock out HUB from the PSU Daily Collegian.
PSU Fastball & Nine Days article
February 26, 2009
The PSU Daily Collegian has posted an article on Fastball and Nine Days, who will be performing together tonight at Penn State's HUB Alumni Hall (PSU students only). Nine Days, who opens the show, had a hit single with the song "Absolutely (Story of a Girl)" back in 2000. The article is nice and lengthy and offers some pretty telling info on both bands, their histories, current activities, and future plans; as well as their takes on the changed/changing music industry. Read: Bringing Back the 90's - Fastball and Nine Days to perform a mix of old and new hits tonight. The Fastball/Nine Days show begins at 8pm tonight with free admission to PSU students.
Miles in NBC Dallas-Fort Worth interview
February 24, 2009
The band alerted us on their blog today about Last Call with Fastball, a recent article and interview with Miles Zuniga and James Chippendale of NBC Dallas-Fort Worth (and the the Love Hope Strength Foundation). The short article features two short video segments with Miles, in which he discusses Fastball and Little White Lies along with the band's trek to Peru, food, wine, and more. Check it out via the link above.
Order Little White Lies from major retailers
February 22, 2009
Little White Lies has surfaced at more major retailers online. Pre-order you copy online now from either Amazon, Best Buy, Target, or Barnes & Noble. Have you run across the album for sale on another site, if so, shoot us an e-mail with it, and we'll update the list.
Pre-Order Little White Lies on Amazon.com
February 18, 2009
That's right, the first online ordering for the new album has arrived. You can now pre-order Little White Lies for $14.98 on Amazon.com. The listing page is lacking much info about the album, though we do see that it looks like this release will be a digipak format (like Keep Your Wig On) and will be released under the Megaforce label, an associated label of MRI/RED.
Fastball article on Hip Online
February 17, 2009
The website Hip Online has posted an article on Fastball's return and the new album Little White Lies. The article features some comments from Miles and Tony as well as some about a few of the new songs, including "Angelie." While not a very long or in depth article, it is new and positive press nonetheless. And hopefully the first of many great reviews for Fastball and Little White Lies. Read: 'Fastball returns with "Little White Lies"
SXSW '09 Confirmed (+ Always Never studio); Zuniga solo dates
February 16, 2009
The band's SXSW '09 date has now been confirmed. They will play Ace's Lounge on Wednesday, March 18 at 8:00pm. The artist pages on the SXSW site usually feature a streaming song from each group and this year is no exception. Head on over to Fastball's SXSW page to listen to the studio version of "Always Never." It sound's great (of course). Now go check it out for yourselves.

Also a couple additional Zuniga solo dates at Vino Vino are also on the schedule.
Band get's new Official Store and MySpace tweak
February 13, 2009
This week the band opened their new official merch store to the buying public. There are currently a few variety of t-shirts, including ladies and men's Fastball Logo tee and a new Dancing Skeleton tee. Also for sale is the band's 2003 indie live acoustic album Live From Jupiter Records. The band promises more to come in the store, including the new album once it's released.

Also the band's MySpace got a minor update today, with revised logo placement and bold announcement of the upcoming Little White Lies release date. Also a Merch area with link to the new official store.
Fastball to play Pangaea Austin; SXSW '09
February 6, 2009
Fastball will hit the stage at Austin's Pangaea lounge on Thursday, March 5 at 8pm, with the Steps, The Alice Rose, The Jungle Rockers and Phoenix Saga. Ticket cost for the event is currently unknown.

The guys are also currently on the line-up to play SXSW '09. Right now, the band list is still subject to change, and no venue/time schedule has been set for the Music event which will run from March 18-22.
Fastball to play Penn State
February 3, 2009
The band will play during Penn State's Annual Spring Concert on Thursday, February 26 at 8:00pm. The concert will be free; however, it is only open to Penn State students and staff. The only thing not clear is which PSU campus this concert will take place at. There is currently no information about this event on the PSU campus's events calendar.
Little White Lies gets firm release date & track listing
January 15, 2009
After months of waiting Little White Lies finally has a release date. The band have recently finalized a distribution deal with MRI/RED, who will release the album on April 14th. No details on the expected availability of the album; however, this distribution deal will hopefully mean general availability at larger big box retail outlets. It is expected that the album will also be available for order online, and purchase through iTunes; though no details of this have been announced yet.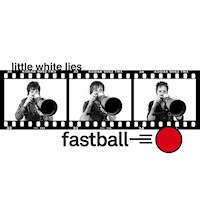 Track Listing:
1. All I Was Looking For Was You
2. Always Never
3. The Malcontent (The Modern World)
4. Little White Lies
5. Mono to Stereo
6. How Did I Get Here?
7. We'll Always Have Paris
8. Angelie
9. She's Got the Rain
10. Rampart Street
11. White Noise
12. Soul Radio