NEWS + HEADLINES
New Music Video - Miles Zuniga - 'Junkie Hands'
April 1, 2013
Long-time Fastball fan Tyler Esposito, who you might know as Shinobiman from the forums, recently teamed up with Miles Zuniga to shoot a music video for the song 'Junkie Hands' off his solo album These Ghosts Have Bones. Check out the video below, and give support with a Like or Share.
Flightpath interviews Tony Scalzo - 5/20
May 20, 2011
Dan Brooks with Flightpath interviewed Tony Scalzo this morning to discuss his upcoming solo album and how he's using Kickstarter to promote his project and obtain funding. In the interview Tony discusses the period between the release of 'Little White Lies' and his decision to record a solo album, what led him to use Kickstarter and his Kickstarter campaign. He also further clarifies the reasoning behind using a professional studio vs basement recording, and why that's important to him and his fans.

Tony also notes in the interview that some of the songs are collaborations with Miles, though he does not specifically state that Miles will play on any of the songs. A few songs are Fastball songs that, as he put it, "never made the grade" ( ie - Temple of My Love, f/k/a Speak Your Name from the Harsh Light era).

Click here to read the entire interview with Tony and Flightpath.

Flightpath is a marketing company with a focus on "emotional currency" and using social media and mobile platforms to help business value by establishing emotional connections between people, companies, and brands.
Miles' album out in September
May 18, 2011
According to an update from Miles, his solo album 'These Ghosts Have Bones' will be out on September 13. The album was previously expected to be released this month. Miles stated that the delay is due to setting up world-wide distribution for the album, a process which takes a fair amount of time to do properly. Miles said that backers of his Kickstarter project will still receive the record in advance of the release, sometime in August.
Tony's Solo Project
May 9, 2011
For those that don't know, Tony has followed Miles' lead, by taking to Kickstarter to help secure funding for his solo album. He is almost halfway to his goal of $17,500, at about halfway through his funding donation period. This amount once attained will go towards the cost of studio time, paying the engineer, paying additional musicians, mastering, and manufacturing of the discs. Like with Miles' project, different donation levels are rewarded with different things:
$15 - pre-release digital download of the album
$20 - physical CD, plus download
$30 - physical CD signed by Tony, plus download
$50 - poster and CD both signed by Tony, plus download
$100 - the $50 rewards, plus a CD of original demos of the album songs
$200 - the $100 rewards, plus invitation to the listening party in Austin

The rewards go up further, offering things like hand written lyrics, a "Thank You" video with a personal by request acoustic performance, and even an in home performance by Tony himself. Let's help Tony make his goal so that we can all enjoy what will surely be a great solo album. Donate to Tony's Kickstarter project!
Miles and his Ghosts get official
February 23, 2011
Miles and his solo project, These Ghosts Have Bones, have gotten official. Miles now has a personal artist website, at www.mileszuniga.com. The album, These Ghosts Have Bones, now has official cover art and track listing. Primary album personnel include John Chipman (drums), Bruce Hughes (bass, backing vocals, whistling), and Miles Zuniga (lead vocals, guitars, piano/keyboard, bass - The Weatherman, Moog bass - Marfa Moonlight). The album also features several guest appearances across the tracks, special executive producer credits, and was mixed by the renowned Bob Clearmountain. According to Miles, the album should be out this May.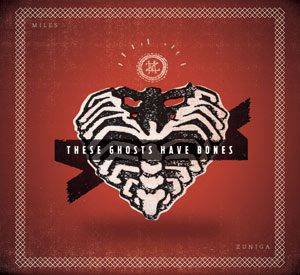 Track Listing:

1. Wicked
2. Feel It In Your Kiss
3. The Weatherman
4. Rock Paper Scissors
5. Marfa Moonlight
6. Elizabeth
7. One Day Closer To You
8. Working On A Love Song
9. Now She's Just A Shadow
10. Junkie Hands
11. You Can't Break My Heart


Tony Scalzo Band goes?
February 22, 2011
According to a recent Facebook update, Tony may be going from band to and. He recently posted a few photos of his fellow band mates under the title Tony Scalzo and the Familiar Strangers. Is Tony going the route of other musical greats and going with a named backing band? Until we start getting consistent updates and show schedules under the moniker I guess we won't know for sure. Personally I like the ring of it. His band mates are Gilbert Ayala on drums, Alan Uribe on bass, and Rusty Gebhard on guitar.

Meanwhile, Tony has a show this Thursday night (2/24) at around midnight at the Hole in the Wall in Austin.
Studio updates from Tony; and SXSW appearance.
February 17, 2011
Tony posted 2 videos from his studio sessions thus far to his Facebook page yesterday afternoon. One laying down new acoustic ballad "The Bed I Made" and the other recording the vocal track for "Halfway Girl".

In other news, Tony has also scheduled a slot at this year's South by Southwest in Austin. He will appear at tenOak on Saturday March 19 and 1:00am, all ages welcome, according to the official SXSW site. So far no scheduled SXSW appearances for either Fastball, Miles, or These Ghosts Have Bones.
Tony hits the studio
February 16, 2011
Tony broke ground on his solo project yesterday, entering the studio to begin the recording process. According to an update on Facebook, Tony made good progress in his first day in the studio and according to him, his "project is well underway!". Hopefully he will continue to update with more details and info along the way, as Miles has done with his effort.
The Way, Pan Seared
February 10, 2011
Tracy Thornton, one of the leading steel pan players in the US, and known for blending musical styles like Reggae and Calypso with Rock, Pop, and Punk, recorded a steel pan cover of "The Way" for his 2010 release, 'Under the Caribbean Sun.' Click here to hear the album on his MySpace page. Hit play by Track 3 and enjoy.
Tony working on solo album
February 9, 2011
Tony Scalzo is currently recording his first full-length solo effort. According to a news post on the official Fastball site, along with info from Tony's personal sites, Tony will be entering the studio beginning in February to record several songs that he's been working on during Fastball's downtime. According to those postings he expects to release his album during the summer or possibly in May. Currently Tony has a selection of songs from his 2005/2006 EPs, plus 1 previously unreleased track on his Reverb Nation page. The song "Queen of Lights in the Golden Age" is a recording done with Franz Stahl some 10-years ago, according to a Twitter post. Links to keep an eye on: Tony Scalzo on Reverb Nation, Tony Scalzo official site (under construction).
Miles gives Fastball demo as gift
January 2, 2011
A few days ago Miles posted a finished Fastball demo for the song "Hummingbird" for backers of his TGHB project. The demo, which dates from 2007, is a short simplistic acoustic ballad and reminiscent of his "Life" demo. This demo was previously noted when it was found in the online music library listing under Tony's MOG page. If you're a Kickstarter backer, login and check the Updates to listen and look in the comments for a download link.
Hear "Elizabeth" on ReverbNation
December 4, 2010
Miles has posted a rough mix of the TGHB song "Elizabeth" to ReverbNation. Check it out here: http://www.reverbnation.com/play_now/song_6222697
TGHB Track List
November 17, 2010
Miles posted the track listing for his These Ghosts Have bones project on November 8. The album will contain a total of thirteen songs which have yet to be ordered for the release. This listing could possibly change given that Miles has a handful of additional songs to finish and the recorded songs still have to be mixed and mastered. The listing is as follows: Marfa Moonlight, One Day Closer To You, Working On A Love Song, You Can't Break My Heart, Now She's Just A Shadow, Hopelessly Blue, Junkie Hands, Elizabeth, Rock Paper Scissors, The Weatherman, Wicked, Feel It In Your Kiss, Hundred Dollar Bill. Miles also stated in the posting that fan favorite "Life" will likely not be included on this record.


. . . . . Missed something? Read more Recent News

For more info. try the 'News Archives' or 'Site Search' to your right.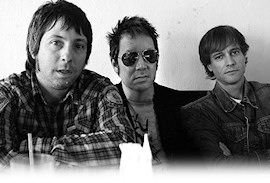 Upcoming Shows
see 'shows' page for more dates/info.
contact
News / Info. / Questions / Etc.
erik [at] fastballblackrain [dot] com

news archives